At the best of times, Kerem Schamberger had more than 20.000 friends and followers on Facebook. Since September, however, the communication studies researcher from Munich has lost approximately 5.000 of them. Some days he would lose 200, other days about 50. The only explanation the 31-year-old could find for losing a quarter of his followers is Facebook intervening. Until September, he reports gaining around 30 followers every day with content and posting frequency similar to his current practice. Since September the numbers have been declining rapidly, said political activist Schamberger, who reports extensively on Turkish politics and Kurdish interests on the social network.
This article is a translation of "Ziemlich schnell entfreundet: Türkei-Kritiker verlieren rätselhaft viele Follower auf Facebook" and reflects the state of the article on November 10th, there have been updates (1 & 2). The main question of "Why and how does the unfriending happen?" is still unanswered by Facebook. Netzpolitik.org has yet to obtain data from which we can reconstruct what kind of profiles were unfriended. The article was translated by Arne Cypionka and Mark Washeim.
And, in fact, we observed the number of Schambegers friends and followers diminish continuously since being in contact with him. Schamberger himself accuses Facebook of acting in the interests of the Turkish regime by severely limiting his coverage.
A Facebook spokesperson responded that nothing could be further from the corporations interests than censoring Mr Schamberger or others. The allegations were being investigated but no evidence of technical errors were found in Schamberger's case. A profile losing followers could have various reasons. For instance, Facebook deactivating or deleting double or fake profiles. Furthermore, automatic systems constantly scan for misbehaving profiles.
Genuine Profiles affected by unfriending
Since Schamberger began reporting his loss of friends regularly, former friends reported being unfriended involuntarily. They aren't bots or fake accounts but real persons with their real names on Facebook.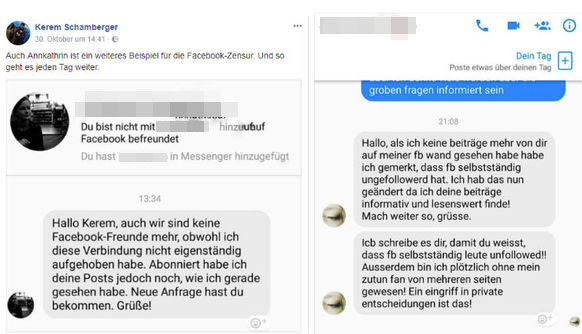 We contacted a few of those people and asked further questions. They confirmed that their friendship was canceled without them doing anything. One of them is unionist Devin Can who befriended Schamberger more than a year ago. He told netzpolitik.org that he checked the status after reading Schamberger's report and found himself demoted to a follower. "That is an odd procedure on Facebooks part, but I'm not surprised since they are always trying to be as slick as possible. It fits their approach to separate people from critical minds."
To support our research with empirical evidence we asked Kerem Schamberger to download his Facebook data. This includes, among the many private details, a friends list. By downloading the data over the course of many days we could have checked for patterns in the unfriending, and how many of the unfriended accounts were fake or deleted. However, Schamberger can't download this information. He stated he had not received the download link after waiting for 5 days. He again requested the data two days ago but still hasn't received it. Facebook told us compiling the data could take several days, especially for larger accounts. We tried it ourselves: For four test accounts from netzpolitik.org – including one with 4.000 friends and 2.000 followers – it took at most 14 minutes. (See also the results of our crowd research, article in German)
More accounts critical of Turkey affected
Schamberger isn't the only one affected by the mysterious loss of followers and friends: Multiple kurdish persons and organizations critical of Turkey complain about a similar phenomenon. One of them is Özkan P.*. He maintains the Facebook pages "RojavaNews.net" and "Kurdische Nachrichten 24" and witnessed a massive decline of followers. "I regularly check the statistics of my pages. Since creating them three years ago, the number of followers increased continuously. Now I'm losing up to 3.000 followers per month." He reports friends reaching out to him. They were shown that they wouldn't follow his pages anymore. But they themselves had not arranged it.
Likewise, politician Özlem Demirel, candidate for the leftist party DIE LINKE in North Rhine-Westphalia, reports losing followers on Facebook. She is also is of Kurdish descent and critical of Erdoğan's Turkey.
A lack of transparency endangers freedom of speech
Matthew Stender works for the platform OnlineCensorship.org where he analyses and documents censorship on social networks. He describes the processes of these profiles as very interesting:
Although Facebook says it's core mission is to "bring the world closer together," it has shown itself to consistently put roadblocks in the way of the freedom of expression. The company suspends accounts and removes content with *limited* external oversight, and there is limited recourse for users who feel their content has been wrongly removed. Unfortunately, vulnerable populations like human rights activists and minority communities can be disproportionately affected. The lack of transparency at Facebook – a platform with roughly the amount of users as the world's most populous country – is a threat to the freedom of expression worldwide.
Nontransparent processes like the so far inexplicable unfrieding could significantly limit a persons reach without it being clear why this might happen. The people concerned are left groping in the dark and cannot defend themselves. Since the loss of followers has conspicuously often affected people and organizations critical of Turkey, many users on Facebook do not believe in a algorithmic collateral damage but a specific measure carried out by Facebook.
Schamberger himself long ago responded to the arbitrariness and the lack of transparency on Facebook. The social network deleting one of his posts earlier lead to him setting up his own blog to be independent from the platform.
This article is based on a joint research by watson.ch and netzpolitik.org.